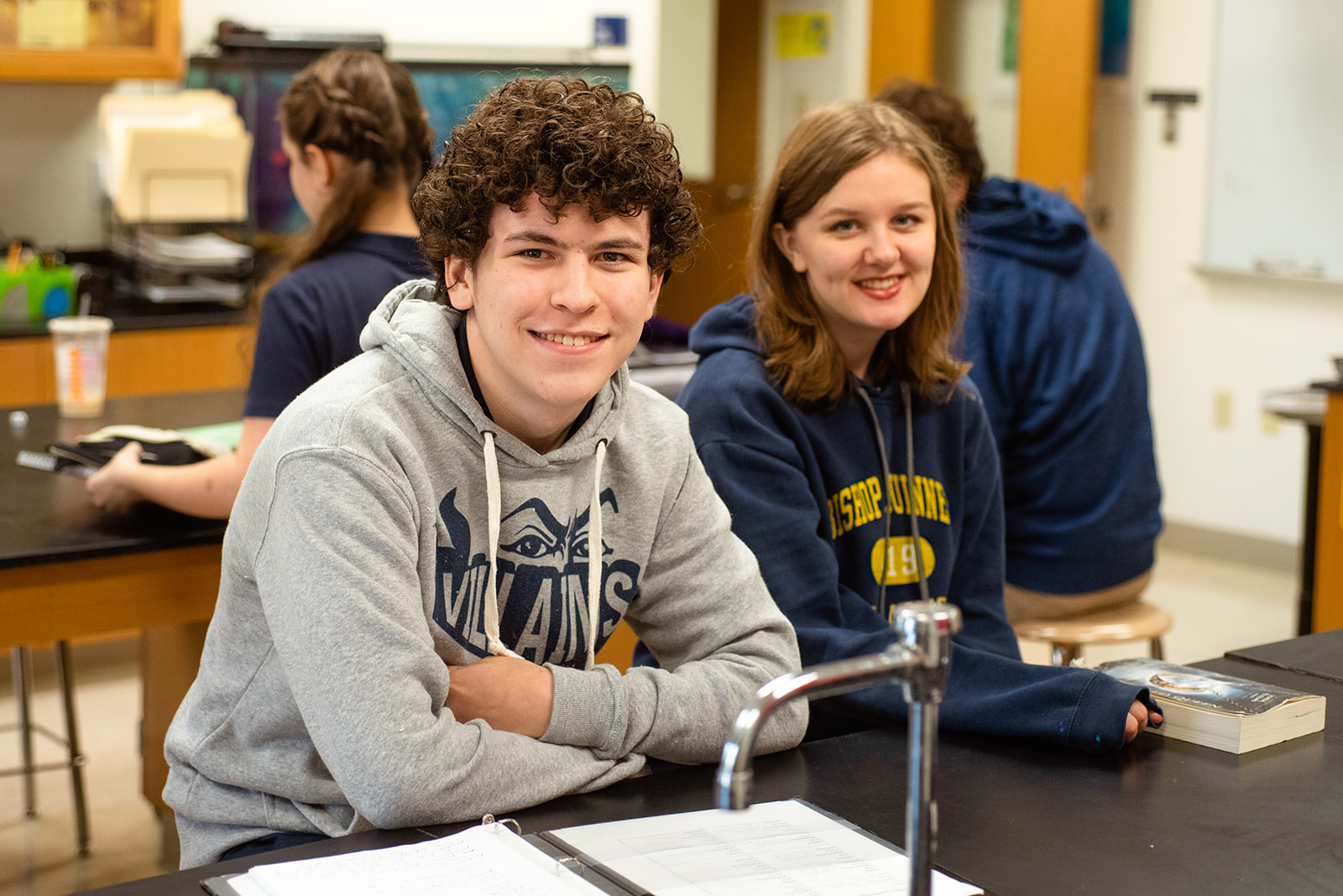 At Bishop McGuinness, I was introduced to people from all over the Piedmont who share similar goals and values. These people have pushed me to be the best person that I can be in every aspect of life. The smaller classes also allow me to form friendships with my teachers and receive more personalized feedback that improves my academic performance. I can tell the staff genuinely cares about my success in and out of the classroom. Another amazing thing about Bishop is the ability to get involved in so many extracurricular activities. I have been able to participate in Football, Basketball, Golf, Student Ambassadors, and Special Olympics. Bishop McGuinness prepares students for college and beyond in a loving family atmosphere.
Thomas Markun -Class of 2021
The Bishop McGuinness faculty and overall atmosphere has helped me excel both academically and spiritually. Academically, Bishop challenges me and pushes me to be the best student I can be. The faculty and staff always have an open door for students that are in need and are willing to help. One of the things that initially drew me Bishop was the fact that I could continue my religious education for 4 more years. The expansion of the Fine Arts program at Bishop is something I am very thankful for and proud of. I am very fortunate to be able to follow my passions of music and theatre at this school. I believe at the end of my 4 years at Bishop McGuinness, I will have the tools needed to be successful both in college, and in life.
Kaitlyn Bliss-Class of 2022
Bishop is a great school. The workload prepares you for the work that college will give you. There are many electives you can choose from each year. The teachers are always available for students to meet with them if they need extra help on a subject after school or during lunch. If you have questions about your grades teachers are willing to explain what you need to improve on. Teachers are willing to give you multiple opportunities to be successful Bishop is a great place for anyone who wants to challenge their academic ability.
Lauren Pickett- Class of 2021
Bishop McGuinness instills confidence, poise and maturity in each and every student. There is a definite distinction from Bishop students as they stand out among their peers. The school community has a family feel and chooses every day to raise the bar for their students in leadership, service and encourages innovated ideas to change the world. Thank you, Bishop McGuinness, for all that you do.
Bren Galaski- Parent